My Super Simple Backpack Essentials For An African Safari tutorial has been compensated by an advertiser. All opinions are mine alone.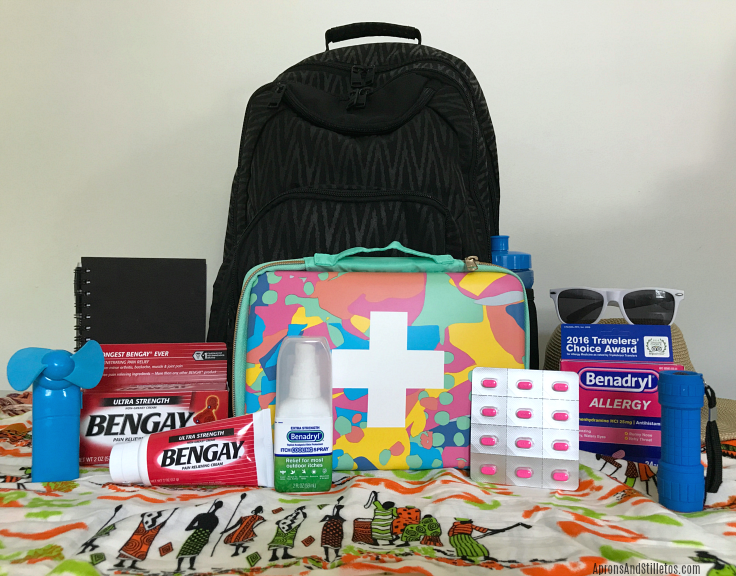 (Tap the image above to shop for your African Safari first-aid supplies.)
My husband and I just got back from an amazing time in Africa that included time spent on safari. While the sights were breathtaking, no on told us what a toll the actual ride would take on our bodies. The Safari we went on was in northern Kenya, where the Samburu and Turkana tribes live. Our job there was serving the people of those two tribes and we had to drive between where we stayed and where the tribes lived.
The terrain was breathtaking, but rocky, mountainous and unpaved. Add to that, we were encouraged to stand up in the jeep during the ride, which tossed us up and down, then side to side. We literally had to hang on for dear life. It was the most exhillerating experience we've had outside of an amusment park, but our bodies definitely paid the price for the amazing experience.
By the time I was ready to return home to the states, I had mosquito bites everywhere, sore muscles and several bruises. Nothing major, but definitely some things that needed attention. After getting back to the states I picked up some 'must-have' first-aid supplies for an African Safari.
I plan on returning to Kenya, so I'll need a first-aid kit for my next trip. First-aid kits are a smart idea whether going on safari or just preparing for emergencies. Plus, right now you can get this cute Oh Joy Bag free  at Target (with the purchase of 3 participating J&J products).
So let me show you the bag and what to pack for an African Safari.
First Aid Kit
For sore mucles, bumps and bruises pack some BENGAY® Ultra Strength Cream. After a day on Safari your muscles will be sore and you may have bruises. Rub on a little BENGAY® to help ease sore spots and provide pain relief. This was heavily used by my team members while we were in Kenya.

For mosquito bites and swelling bring along B

enadryl anti itch spray and Benadryl Ultra Tabs. While store bought or homemade bug repellent will help, you will probably still get bit. 

For cuts and bruises pack a few band-aid bandages.
Capturing Memories
Camera – You'll want one that takes great close and far away shots. You will take a ton of pictures.

Backup flash drive (for photo/video storage) – You will run out of space fast from the amount pictures you take.

Journal & pen – At the end of the day, you may want to take notes about the safari.

Mobile battery charger – You will need one, if not two.
Skin Care
Sunscreen

Bug repellent

Sunglasses

Scarf

Sun hat

Fan (battery operated)
Hydration
Micsellaneous
With outdoor activity comes bumps, brusies and sore muscles. So whether going on an African Safari's or some other amazing adventure this summer make sure you're prepared. Head over to Target and get your free first-aid bag with the purchase of 3 participating J&J products. Look for the end cap display like the one below.
SaveSave
SaveSaveSaveSaveSaveSave
SaveSave
SaveSaveSaveSave
©Johnson & Johnson Consumer Inc. 2017 The third party trademarks used herein are trademarks of their respective owners."