This DIY self-care themed subscription box tutorial and shopping trip has been compensated by Collective Bias, Inc. and its advertiser. All opinions are mine alone. #ChooseTENAOvernight #CollectiveBias
If you haven't already heard, it's Women's History Month so let me take a moment to introduce you to an important woman in my life. This is my mother-in-law on the right, and the woman who has taught me so much about being a thoughtful caregiver. Over the years she has truly demonstrated the generosity one would look for in a caregiver.
She's taught me that being a caregiver starts with "giving" and giving generously. I've watched her feed people in her neighborhood during the holidays, take in countless special needs children as well as adults and just love on them. Her community work with special needs adults is how I initially learned about TENA® incontinence products for women.
My mother-in-laws home has been a safe haven for a few people who have had issues with incontinence. We started buying them TENA® because the products available empowers them to feel confident, and to keep living their lives to the fullest. Watching her care for people over the years has affected me tremendously and has inspired me to become a more thoughtful caregiver.
How to Be a Thoughtful Caregiver
One thing about thoughtful caregivers is they love giving. My mother-in-law is notorious for bringing a gift when she goes to see people. Whether food, clothes or household items, she always shows up with a box or bag of something. When she's out shopping she's always thinking about who could use something she sees and she grabs it for them. There are many time when she'd be shopping and call me up asking if I needed something she saw a good deal on.
She is super thoughtful in this area and has always made a mental note of things people said they needed or wanted. Then out of nowhere, she would drop by or tell you to stop by her house and surprise you with a gift box or bag.
That has always stood out to me. Just surprising people with things, no matter how small just seemed to brighten up people countenance. That stood with me and is a habit I've tried to carry out and pay forward. In honor of her I decided to make a subscription style gift box for a friend and include some personal care items I know she uses.
The box I made for her has a bedtime self-care theme. Here are the items in her box. You can mouse over the image below to shop the photo or visit your local Walmart "Personal Care" aisle.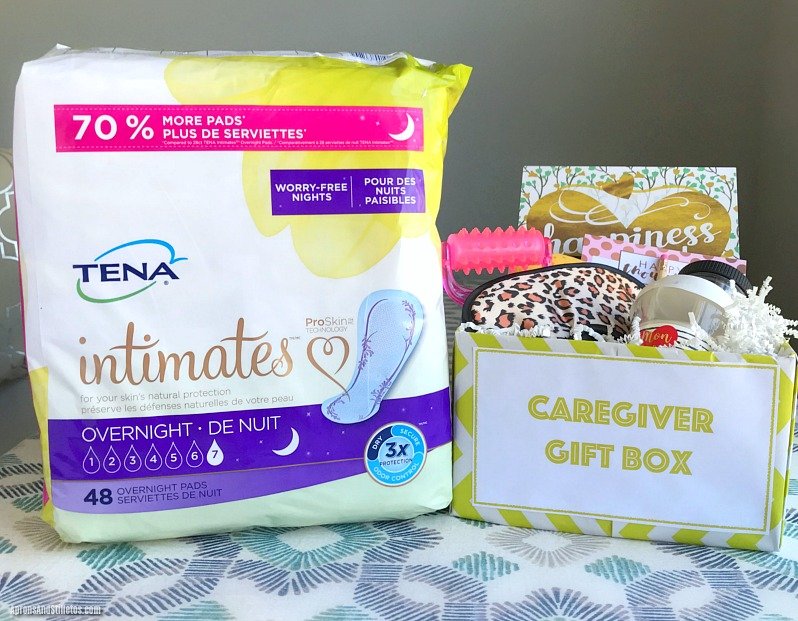 Caregiver Gift Box
Items Included
Bath salts and a nice loofah to relax in a warm bath before bed. All it takes is one cup of bath salts dissolved in warm water and a regular bath will turn into a 20 minute relaxing spa treatment.
TENA® Intimates™ Overnight Pads, to keep her feeling confident and protected for the Unexpected Leak™. These have ProSkin Technology™ and triple layer protection from accidents. They include a soft top layer, that quickly absorbs fluid keeping her feeling fresh and clean with worry-free nighttime protection. TENA® intimates™ Overnight Underwear will 

soon be available at Walmart and will have the same great technology as the TENA Intimates™ Overnight Pads.

A vanilla latte scented candle and stationery supplies to write notes or journal before bed. The tiny coffee cup and cozy themed mug was just too stinking cute not to include. I'm a sucker for candles and coffee, but coffee doesn't help with a restful nights sleep.
A cute sleep mask to help her settle in for the night. Those sleep masks do an amazing job of blocking out light are my bed time go-to's so I think she'll love them.
The "Happiness Is Homemade" canvas I didn't even intend to include, but when I saw it I had to get it for her. The colors are so soothing and the design so feminine. We both love creating a home for our families so I had to get this for her.
To make the bed time themed Caregiver Gift Box, I used a small shipping box I bought from Walmart for $0.68. I cut off the top tabs that would be used to seal the box and covered it with wrapping paper. You could leave the tabs on if you plan to seal the box. Gifting this sealed is totally optional and a good idea. After wrapping the box I created a simple label and attached it to the front of the box with paste.
Once the outside of the box was done, I used store-bought shredded paper to organize the items in the box. I put the larger items towards the back and the smaller ones at the front. Once everything was in the box the way I wanted I took this picture to show you the finished Caregiver Gift Box.
It took me about 30 minutes to style the box how I wanted it. I used shredded paper to stabilize the items in the box.