Today's DIY 'Time Out for Pain' Self Care Kit tutorial and shopping trip has been compensated by Collective Bias, Inc. and its advertiser. All opinions are mine alone. It is important to always consult your doctor before using Advil if you are breastfeeding #AdvilRelief #CollectiveBias
Hey loves, this DIY "time out for pain" Self Care Kit is super easy to make. It's filled with fun things to stay busy while on bed rest and includes the perfect remedy for minor pain.
Have y'all been formally introduced to my amazing oldest daughter? She's my twenty-four year old "twin" and mother of my two adorable grandchildren. It's been so exciting navigating this season of motherhood and family life with her. She's learning how challenging life can be as new a mom and homemaker. Good thing I'm there to remind her of how rewarding it is.
With a new baby and pre-kindergartener she has her hands full. Her nights are short on sleep and her days full of caring for her babies. With little ones at home she can literally feel like there is no time to care for herself. That's when she'll call me and I'll reassure her that the kids will be okay if she takes a moment to reboot.
This is especially important when she has aches and pains. As a homemaker she has the luxury of being her own boss so she gets to decide when to rest. To help her pass the time when she's feeling achy and needing a break, I created a DIY "time out for pain" self care kit.
The kit is filled with things every woman can use when they need to take a "time out for pain". The idea for the kit was inspired by the new Advil® Liqui-Gels® minis 160ct available at Target stores and on Target.com.
The new Advil® Liqui-Gels® minis work fast for headaches, muscle aches and joint pain. Plus, they're now 33% smaller in size making them easier to swallow with the same strength as before.
When I'm taking a "time out for pain" I still like to be productive. To make sure my daughter is able to do that I included some supplies that would let her rest, but still make the best use of her time. To get started creating your DIY 'Time Out for Pain' Self Care Kit, I included a shoppable picture below. Click on the items to begin shopping at Target for the supplies I used.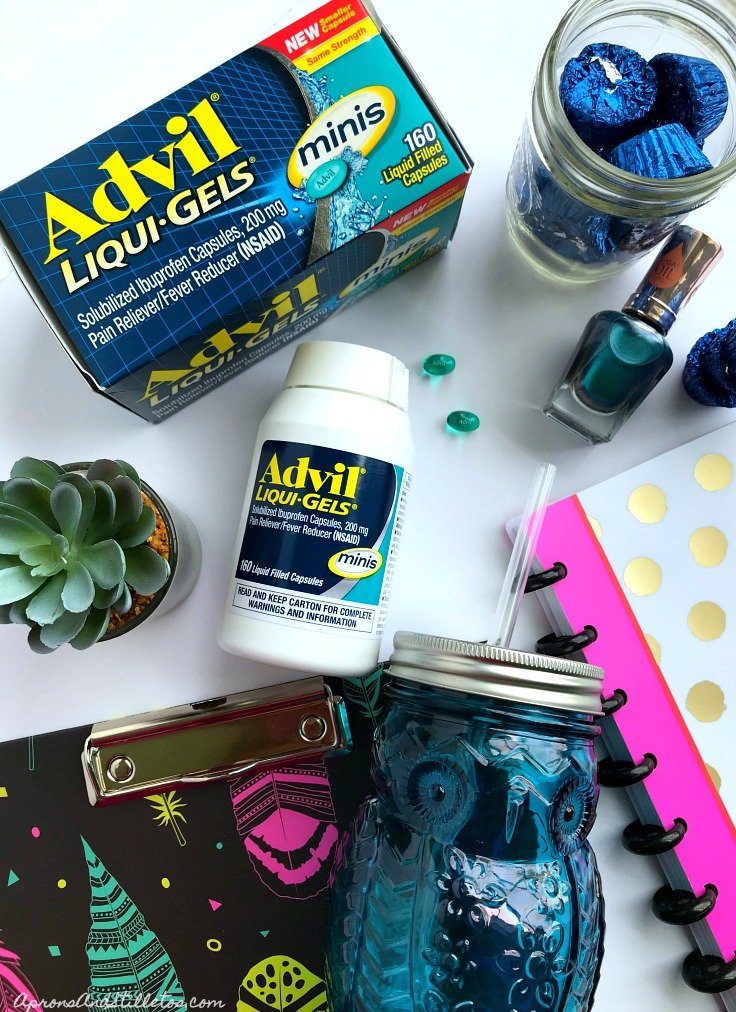 How to make a DIY 'Time Out for Pain' Self Care Kit
Supplies
Advil® Liqui-Gels® minis 160ct
journal
clip board
nail polish
candle
succulent
candy/snacks
personal cup with lid
wire basket
pen
small jar with lid
1. Assemble all the larger items toward the back of the wire basket.
2. Fill your lidded jar with candy or snacks.
3. Assemble the remaining small items in the front of the basket.
When you create your DIY "time out for pain" Self Care Kit, don't forget to include the new Advil® Liqui-Gels® minis 160ct at Target.
"PIN IT"
Use as directed ©2017 Pfizer Inc. LIQUI-GELS® is a trademark or registered trademark of Catalent Pharma Solutions.